10 Best Incident Management Software In 2023: An In-Depth Guide
People working in the IT industry are all too familiar with incidents. Database managers encounter "Incidents." These are abruptions and exceptions that happen during normal procedures.
Incident Management Tools take care of such abnormalities and help keep the operation smooth. An ideal software needs to be put through multiple ringers. It needs to jump through numerous hoops before taking on complex problems. It's not as easy as it looks!
Even then, you'll find a myriad of options available on the internet. Everyone claims to be the "Best" at the job. Realistically speaking, which are some of the best incident management software out there?
Which software gives you the least hassle and takes more of the burden away from your back? I'll be answering all these questions in this article.
Comparison Chart Of Top 5 Incident Management Tools
| | | | |
| --- | --- | --- | --- |
| | | | |
| | | | |
| | | | |
| | | | |
| | | | |
| | | | |
Some of the Top-Rated Incident Management Software We Recommend!
We tested a bunch of software before narrowing it down to 5. These are affordable and beginner-friendly, and they do a flawless job of minimizing irregularities in database management. Let's learn more about these tools.
This little tool increases productivity and solves "Incidents" in the coding process at the same time. The best thing is this is suitable for companies of all sizes.
The ability to set customized tags for each incident sets it apart from most tools. We found it handy. This minimizes the chance of further mishaps of the same kind. Hence, your team will be more productive. They'll be able to focus on other tasks.
ClickUp does more than report incidents. It has intriguing features. We're talking board view functions. Users will find several options to group these functions under priority, assignee, and status. 
We liked the interactive dashboard system. It points out incidents. This helps coders to neutralize bugs before any issues arise. 
This tool understands which step of the solution needs to be prioritized. After getting the order right, it sets up a sequence. This will give the developers enough time to do things step-by-step.
You'll also find "Email Clickup" as a service. Thanks to this, people can communicate on the platform via email.
Want to do multiple edits and tackle several incidents at the same time? Thanks to this tool, your team can! This is a huge timesaver. The developer team can attend to multiple incidents at the same time as well. If you don't want to tackle every incident by yourselves, feel free to automate the responses.
This management software gives you a hand-free experience as well.
Pricing:
MantisBT is a super-reliable incident tracking and management software. It seamlessly balances simplicity and efficiency. With this tool, you'll be able to ensure prompt and effortless collaboration with your clients.
Primarily, Mantis Bug Tracker monitors software defects. We could set this up within minutes.
The notification panel, workflow patterns, and issue field that you see… are customizable. Hence, MantisBT gives us the ability to filter reports. We can receive only information on issues that directly affect our work.
If this incident management software finds an issue, it immediately sends notifications to relevant teams. Then, it begins tracking the problem's status.
Your developers will then get a time check on how soon the problem can be resolved. 
The good thing about MantisBT is it's a multi-faceted software. Meaning with the intuitive user interface, the tool is easy to handle. This software comes with additional plugins. These plugins facilitate project management, blogging, content management, programming, etc. 
You won't find a tutorial or "Hand Holding" done for newbies. Everything is easy to understand. Beginner-level coders can handle the tool by themselves. Mantis BT's customizability is something to boast about. It allows users to work within their comfort zones while solving problems.
This wonder tool allows Devs to "Track" their moves. Hence, they will find out errors on the go and correct them when needed. However, you won't be able to log into the tool using Google or any social media.
Before you decide to use the software, you can go for a test drive for free. The paid version starts from as low as $4.95.
ServiceDesk Plus is a fantastic management tool with intriguing features. It's designed for DevOps and MSP. 
Yes, ServiceDesk Plus does incident management. However, this tool will also help users track bugs, does some SLA management, and facilitates self-service for the customers who need it. 
ServiceDesk Plus also has an impressive knowledge base on technical management solutions. The users will find plenty of articles there. 
On ServiceDesk Plus, you are in charge. You get to pick a package that facilitates change management. It is an IT management platform by itself. ServiceDesk Plus has an "Automatic Notification System." The client immediately knows what's up. You don't need to write lengthy emails. 
There can be several types of incidents. This intuitive tool assigns tickets to your development team according to their skills and area of expertise. This solves every incident in due time without backlogging. 
ServiceDesk Plus has three options – a standard plan, a professional package, and an enterprise package. The standard plan best suits developer teams that want "Helpdesk" functionality.
If you're looking for a desktop solution and asset management, the "Professional Package" is just for you.
People with a large team of developers need the "Enterprise" mode. This mode provides "Full-Stack IT Support." Teams can deploy it remotely or On-Site.
If you're the user and run into a problem, you can reach customer service in several ways. Feel free to call them or shoot them an email. ServiceDesk Plus turns emails into tickets. 
The "Custom Status Configuration" mode is rather helpful. This allows you to track the responses to any incident. People can even track the individual teams and their processes in solving the issue. 
ServiceDesk Plus allows developer teams to define "Closure" rules. This crisis management tool ensures developer teams resolve any issue perfectly. It logs every incident and preventive measure. The chances of repeating the same problem are minimal. 
At the end of the day, your team is educated about each step of the process. This nifty software has a "Freemium" package, but you can also contact them for a customized solution.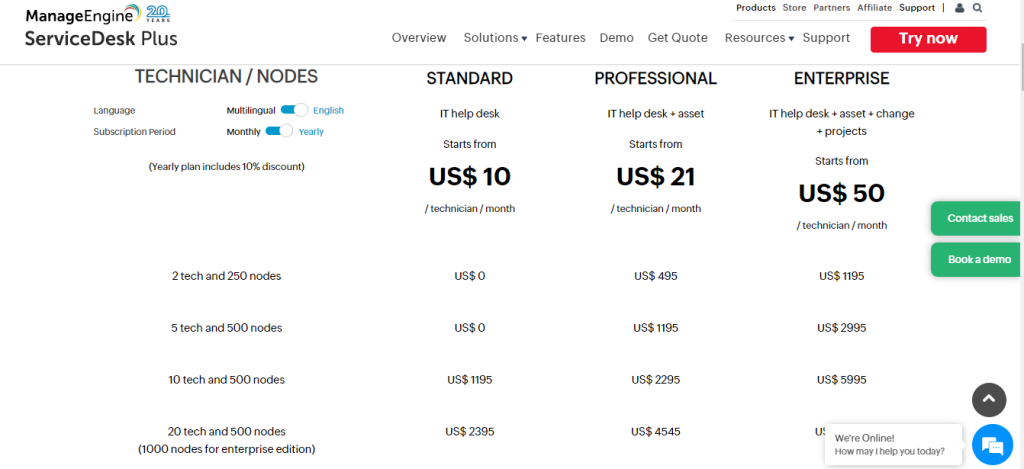 We hardly had to look elsewhere for the best incident management software. ServiceNow is the obvious choice. The tool won several awards for its contributions. This tool comes with NLU or Natural Language Understanding. Developer teams can send and process common virtual requests. 
We liked the organized dashboard it has. The UI is colorful and clutter-free. You'll find what you're looking for in various sections relatively easily.
Feel free to use it with numerous third-party software as well. These include but aren't limited to Grabit, Vivid Charts, 4Facility, etc.  
Yes, ServiceNow may have a good dashboard with vivid color coding. People will like it as well. But we advise you to keep your request list sorted. This tool discards ill-organized request lists on its own. 
It might take you some time to update closed requests. You will sometimes find these in the "Open Requests" folder.
While giving this software a test run, we found perks that enable users to log incidents, get notifications, and assign tasks to teams. This tool will categorize and prioritize incidents based on their severity and how urgently you need problems to be solved.
This will give developers time to think and decide which problem they'll focus on and when.
When you solve the problem, your team can do a postmortem of the issue. We call this "Root-Cause Analysis." This thing prevents the same problems from impacting your software in the future. As you'll be managing projects, end-users will have remote customer service.
It'll instill their faith in your business.
However, this incident management tool has its challenges. It'll take your team a long time to get to know this tool. The learning curve is steep, especially for beginners. 
Yes, it's one of the best tools for incident management. However, watching tutorials and jumping through the hoops can be tiresome for newbies.
The silver Lining is, this ServiceNow has an app. Thanks to this, you can access the platform from anywhere and quickly resolve incidents.
Zendesk is on our list for several intriguing features. Firstly, it links several incidents to one ticket. It prompts a faster response and effective troubleshooting.
ZenDesk divides tickets into four categories. Your issues will go into Problems, Questions, Tasks, or Incidents. Thanks to these categories, you can identify and troubleshoot problems quickly.  
It synchronizes with multiple software and social media platforms. Twitter, Facebook, and WeChat are just a few examples. Feel free to opt for the base plan when purchasing ZenDesk. 
However, you can add more products with it; it'll cost you more. 
People can integrate this with SendSafely, AmazonConnect, Team Viewer, and other tools.
Zendesk allows companies to promote collaborations and communication among their teams and end-users. These things help in the timely resolution of a problem. People can do a postmortem of an issue as well. This will prevent further incidents.
People can customize ZenDesk's Pre-Built Dashboard for every type of incident. Your customers will be able to notify you about several issues efficiently thanks to the "Ticket Routing System." 
ZenDesk will assign tickets according to the team's expertise. This way, incidents will be resolved quicker.
Software Testing Tools Comparison Criteria
Let us be honest: we went through a thorough testing phase before recommending these tools to you. We looked at the following Features and Functionality when recommending this incident management software on our list today.
Features and Functionality
Users look at the features and functionality of incident management systems to determine what is right for them. Although many incident management tools exist in the market, a few features may vary. The factors we look at to classify features and functionality include: 
Consolidated Alert System
Is the software customizable, and does it serve all concerned departments? We looked for and found the answers in these tools. All the tools we picked are flexible and can adapt to multiple situations.
If you decide to test a tool for its potency, make sure to find out if it can check for incidents from different sources like emails, phone calls, and social media. Your tool should organize them and report them to the relevant people. The ideal tool should have flexible and intuitive settings as well.
Issue Categorization
How does the tool categorize issues? Does the system generate keywords that can be helpful in the future when analyzing issues? Does it have a solid categorization system, and how often is it updated? 
Investigation Tools
We looked into how a software support investigative actions into the incidents reported. The ideal tool should provide a sequence of events that occurred for every incident. 
Our focus on facts like, "Does the system have any suggestions for the type of corrective action to be taken for every incident?" Suggesting corrective measures would be a big plus for the devlopers. It saves them some valuable time.
While you're looking for a tool, look at the fact if there are significant reductions in the times used to resolve incidents or not. You'll be able to do some A/B testing.
Analytics and Reporting
The tools you use should be able to report the incident correctly and in detail. There shouldn't be any complex jargon or data you can't interpret. These tools you see on our list can blend in with third-party software and import or export data to help analyze the situation better.
Problem Management
We Considered if the tool provides ways to get to the root cause of the problem. Also, the tools we selected break down the solutions into specific, actionable steps. It helps the users (especially beginners) focus on issue-solving quicker and move on to the next process steps.
How Incident Management Tools Work?
These tools are coordinators. They coordinate and maintain synchronization between several processes. Hence, the problem gets resolved more quickly. Let us take you through the steps! 
Step 1: They Log Your Incidents!
How a software logs incidents depend on the type of incident, we deal with. Crisis management software can log incidents through phone calls, messages, emails, etc. These logs include everything about the incidents. It allows the response team to act accordingly. 
Incident logging has a long-term benefit as well. The response team can keep these files to categorize and take action against similar incidents in the future. 
Step 2: These Tools Categorize Incidents
How an incident is categorized depends on the software you're using. For example, the developer team can categorize these things based on urgency, status, and severity.
Proper categorization of these incidents will help your teams in making important decisions. They will have the flexibility of deciding which incident to respond to first. Usually, teams respond to incidents affecting the most number of users first.
Step 3: Crisis Management Tools Help Prioritize the Incidents
Prioritization depends on a heap of factors. It'll help your team decide on which problem to solve first. Different companies follow different metrics to prioritize an incident. We'll list common ones bellow:
Critical.

High.

Medium.

Low.
Step 4: Assigning Different Incidents
Let's say you categorized and prioritized an incident. Next, companies look at a team member's expertise and skill level when they assign an incident to him/her.
For example, you'll get helpdesk-related customer queries if you're into CRM. 
Step 5: You'll See Numerous Tasks Breaking Down a Complex Solution
If the incident is challenging, your tool will break it down into several tasks. The number of tasks depends on how complex the problem is.
You might even need people from different departments to work closely on some cases. Each member of your team must understand his/her particular duties.
Step 6: Managing Service Level Agreement and Escalation 
Every company has a Service Level Agreement. Make sure your teammates don't accidentally breach it while solving an incident.
You'll find numerous types of SLAs. This includes response SLAs (this will signify the time limit within which you'll have to tackle the incident) and resolution SLAs (this means the steps acceptable in resolving the incident).  
SLAs are assigned to incidents only after considering the urgency, category, and severity of the problem. 
You can only escalate the incident once you feel that it'll breach your SLA. Escalation means the incident needs to be solved immediately. You need an emergency response team ready for the task.
Step 7: Incident Resolution
This is where you find a makeshift or a permanent solution to your problems. The solution will depend on the type of incident you encounter. You'll find some problems which need a temporary resolution. Others might need a permanent solution.
Step 8: Incident Closure
Once you resolve the problem, you'll have to ask the users if the solution was helpful or not. If it was helpful, you can mark the incident as "Closed." Otherwise, you can move it to appropriate departments.
Which Incident Management Software to Choose?
Still trying to decide which software to go for? We gave you five options, right? Let us make things easy for you. We recommend ServiceNow as the best of the lot. Everything is done in proper order, from incident categorization and assigning to resolution and feedback. Also, this tool is excellent when you want incidents to be solved within the quickest possible time.
Other Incidents Tracking System Options
More tools that can help with incident management include:
SolarWinds
SolarWinds makes the process of incident management faster by automation. It classifies incidents and allocates them to the appropriate team members within the organization, ensuring quicker incident closure and resolution. 
You can integrate SolarWinds with many applications and software, including Zendesk, Google Workspace, etc. 
BigPanda
BigPanda has an autonomous operations platform to facilitate faster capturing of alerts and any changes to systems. It detects problems and solves them immediately, working on the root cause to eliminate future occurrences. 
BigPanda groups multiple warnings from several monitoring systems into one database and filters them to identify those needing immediate attention. It is an excellent tool, but a bit pricier. The starting price is $144000 per year. 
Issuetrack
Issuetrack is an excellent tool for tracking your company's issues. It has a detailed catalog with many categories of cases. The classification ensures that every problem quickly reaches the right people to attend to it. The user interface may be less appealing to some. Issuetrack provides a free demo and charges $59 per month.
Last Two Cents on the Topic
Best Incident management software can save time, optimize resources, and make better business decisions by offering a central platform for managing and tracking key metrics. 
As the technology behind it continues to evolve, these tools are becoming more of a strategic asset for businesses around the globe.
Frequently Asked Questions
Let's answer a few of the tough questions that's nagging you even after going through our guide on Incident Management Software, shall we?
What are the Types of Incident Management?
There are various types of incident management scenarios that the organization handles. 
They include single-user-related incidents (affecting a single person, for instance, a user forgetting their login password), multi-user service-related incidents (involving many people, for example, a slow website due to overload), and significant IT service incidents (for instance, unresponsive nodes resulting from hypervisor issue). 
What is an Incident Management Platform?
An incident management platform enables communication with the security team so that information about an incident can be shared and a plan for its resolution can be developed. 
Besides collaboration, the platform integrates with third-party tools to enable prioritization and visibility.
Is unit testing part of QA?
An incident management platform enables communication with the security team so that information about an incident can be shared and a plan for its resolution can be developed. 
Besides collaboration, the platform integrates with third-party tools to enable prioritization and visibility.
What are the Incident Management System Examples?
Incident management systems can take several forms. For instance, incident prevention systems can help detect and stop incidents before they happen. Software for incident mitigation will assist in resolving the incident and minimizing the damage it causes.  
Latest posts by Rahnuma Tasnim
(see all)