We Tried 5 Best Testlink Alternatives [In-Depth Comparison 2023]
Quick List of 5 Alternatives to Testlink
TestRail

Tuskr

Xray

PractiTest

Testpad
Sup testers! If you're like us, you want the best tools to make testing more accessible and efficient. We decided to check out 5 of the top Testlink alternatives this year. We'll give you the full scoop on what we liked and didn't like. Whether you're a pro or just getting started, prepare for a deep dive into the best Testlink alternatives in 2023! Let's do this!
Reasons to consider an alternative to Testlink
Considering alternative software testing solutions may be beneficial if one has been using Testlink. This is due to the potential for incompatibility with new technology, a difficult learning curve that could impede testing progress, and an outdated interface compared to more modern alternatives.
A brief overview of the five alternatives we will be comparing
After thorough research, we have identified five potential alternatives to Testlink. Each of these tools provides distinct features and advantages which could make them more suitable for the testing requirements of your team. Our comprehensive comparison will assess these tools according to usability, integrations, customization possibilities, cost, and more. At the end of our assessment, you should better understand which alternative(s) might be appropriate for your team. Let us now explore each of these five alternatives in detail.
Comparison Chart Of Top 5 Testlink Competitor
| | | | | | |
| --- | --- | --- | --- | --- | --- |
| | | | | | |
| | | | | | |
| | | | | | |
| | | | | | |
| | | | | | |
| | | | | | |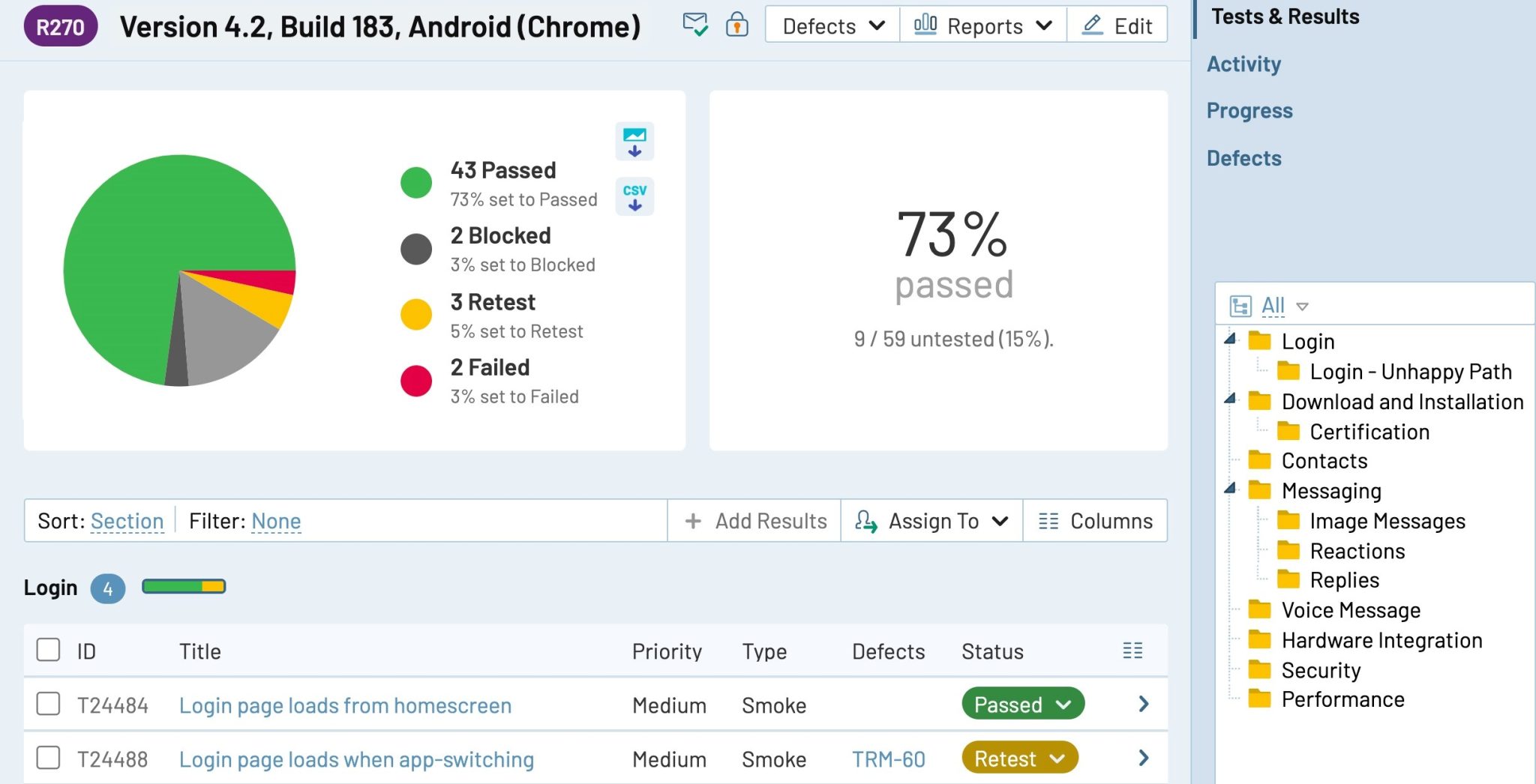 TestRail is a popular test management tool that is trusted by thousands of teams around the world. It helps teams organize their testing efforts, from test case management to reporting, with an intuitive interface and robust features.
 TestRail is renowned for its user-friendly design and ease of use. It is simple to set up, enabling users to begin testing quickly. Furthermore, TestRail provides many customization options, allowing teams to customize workflows and dashboards according to their requirements.
TestRail was founded in 2004 by Gurock Software and later acquired by Idera in 2016. The company has a reported valuation of $1 billion, with over 50 employees, as per Crunchbase. The founding team comprises Dennis Gurock, Florian Gurock, and Tobias Gurock.
TestRail offers a range of features that help teams manage their testing process, including:
test case management

test planning

execution and reporting
TestRail is a comprehensive testing tool accessible from various devices, including phones, computers, and tablets. It facilitates easy testing in any location and integrates with tools like JIRA and Selenium. People love it – over 800 reviews with a 4.5-star rating found in capetrra and G2!
When looking at Testlink vs TestRail, it's evident that TestRail has more to offer. It has a really cool user interface that makes testing more straightforward and faster. Plus, it has features like customizable dashboards and a mobile app that Testlink might need.
The user experience is made simple with a robust feature set

Integration options and the ability to track progress reporting and identify areas for improvement. 

Highly customizable enables teams to create workflows tailored to their specific needs.
The cost might be too much for small groups or people with little money. 

Some may think the reports must be more detailed than other complex programs.
TestRail is a widely utilized test management tool that enables teams to expedite and optimize their testing process. It features a user-friendly interface, customizable workflows, and numerous capabilities, thereby making it popular among teams globally.
Tuskr is a test management tool that makes testing easier and helps teams work together better. It has many features to help you manage your testing, like keeping track of test cases and creating reports.
Tuskr is an excellent tool for testers! It features a user-friendly design that facilitates the creation, execution, and management of tests. Additionally, it integrates with popular applications such as JIRA and Slack to promote collaboration among team members. It was started in 2018 by some brilliant software developers and testers, and now they're worth a whopping $10 million, according to Crunchbase!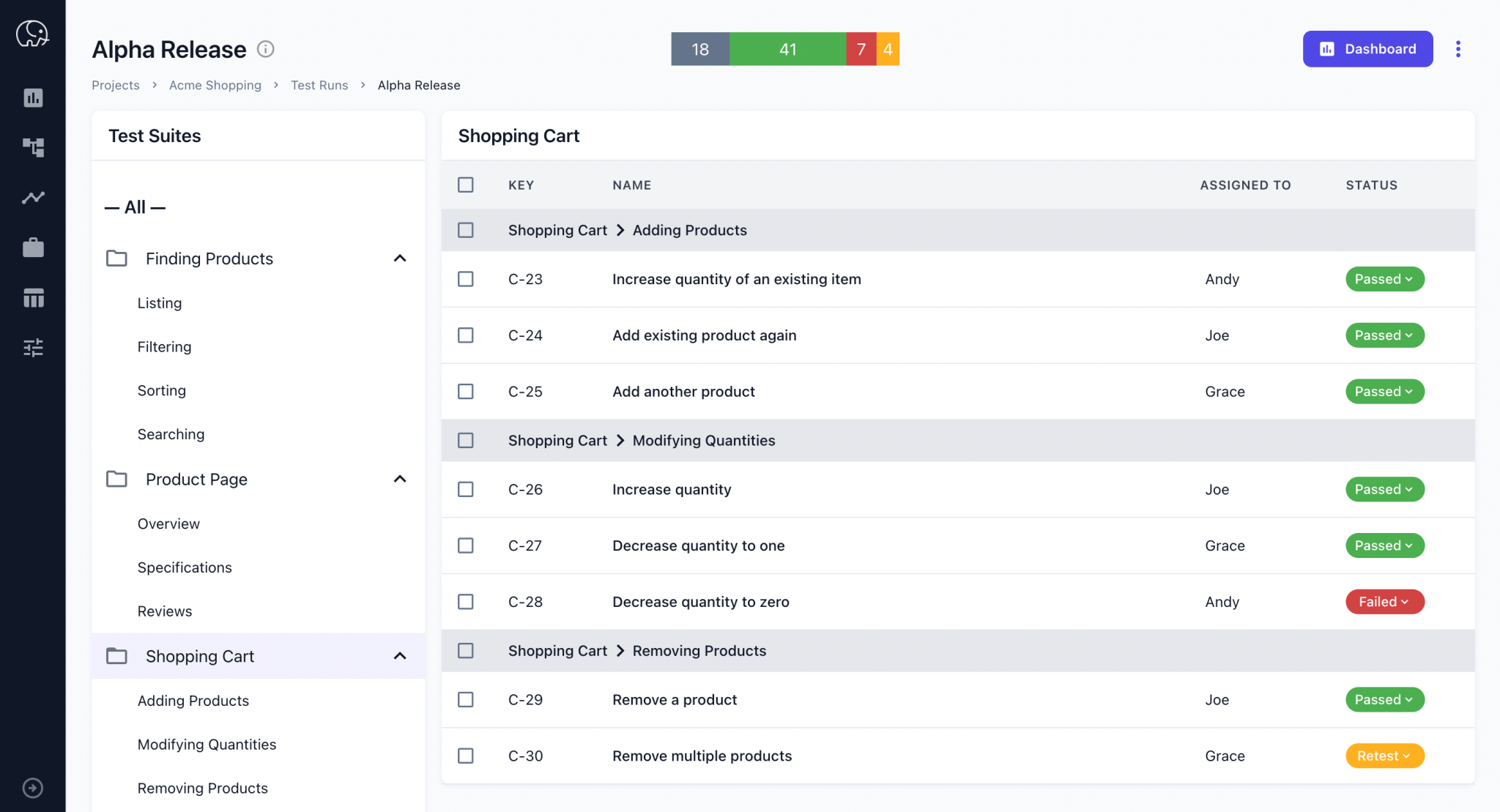 Tuskr has tons of cool features that make it easy to use for both people and groups, no matter what type of device you're using (phone, web, or computer). Plus, it works with popular platforms like JIRA and Slack. It's really popular too – it has over 50 reviews on G2 and Capterra, with an average rating of 4.7 out of 5 stars!
When looking at Testlink vs Tuskr, it's evident that Tuskr has some great features. Its user-friendly interface allows users to begin testing immediately. Additionally, its integration options facilitate collaboration and communication among teams.
Tuskr is an excellent tool for all types of groups! 

It's super user-friendly, so you can get going fast. 

It helps you work together with your squad, like collaborating and personalizing how things get done. 

Tuskr is affordable, so even smaller or medium-sized teams can use it without spending too much money!
The reporting features might be better than other tools out there.
An analysis of Tuskr showed that it can make testing a lot easier for teams. It has cool features like apps for phones and computers, and works with other popular tools. If you're looking for an easy way to manage, test and share info with your team, then Tuskr is worth checking out!
Xray is a comprehensive solution for testers to organize, plan and track their tests. It features numerous capabilities that enable users to monitor testing progress and ensure accuracy. Software developers utilize Xray to optimize the quality of their products before release. Additionally, it facilitates the identification of any potential issues so they can be addressed promptly.
Established in 2013, Xray is based in Portugal and has approximately 100 employees. To date, the company has raised $3M in funding.
Test Case Management, Test Plan Management, Requirements Management, and Test Execution Management are all offered by this software. It also integrates with JIRA, Jenkins, Bamboo, and many more. Mobile app and desktop app options are available. This software has been rated 4.8 out of 5 stars on Capterra with over 300 reviews.
Xray provides a more comprehensive set of features, including requirements management, test plan management, and integrations with various tools which are not available in Testlink. Additionally, Xray offers a more intuitive user interface. However, Testlink is open-source and free to use, while Xray requires a license to access its services.
Advanced test management capabilities

seamless integration with other tools

mobile and desktop app options

excellent customer support
might not be ideal for smaller teams
Xray is a super helpful and efficient tool for managing testing activities. This is one of the best Testlink Alternatives you should check out for streamlined Jira Test Management, a reliable and effective solution for software development teams to keep track of their tests. It is highly recommended and worth the cost.
PractiTest is a customizable testing tool that simplifies testing by offering features such as creating test cases and generating reports. It integrates with popular tools such as JIRA and Selenium, allowing for better collaboration between team members.
Founded in 2009, PractiTest is based in Israel and has a reported valuation of $30 million, as indicated by Crunchbase.
PractiTest offers mobile, web, and desktop applications for users to access testing tools from any location. This product can be integrated with JIRA, Selenium, and other CI/CD pipelines and has received positive reviews on G2 and Capterra, with an average rating of 4.6 stars out of 5 from over 200 people.
When comparing Testlink and PractiTest, it is evident that PractiTest offers a variety of advantageous features. It is highly customizable, allowing users to tailor the system to their team's requirements. Furthermore, its compatibility with other tools facilitates collaboration and helps ensure everyone remains in sync.
Pros of using PractiTest:
The remarkable thing about PractiTest is that it's flexible and customizable, so you can make it work for your team, big or small. 

Plus, you get a lot of enterprise-level features for a reasonable price!
Cons of using PractiTest:
Some people find the UI confusing and hard to learn.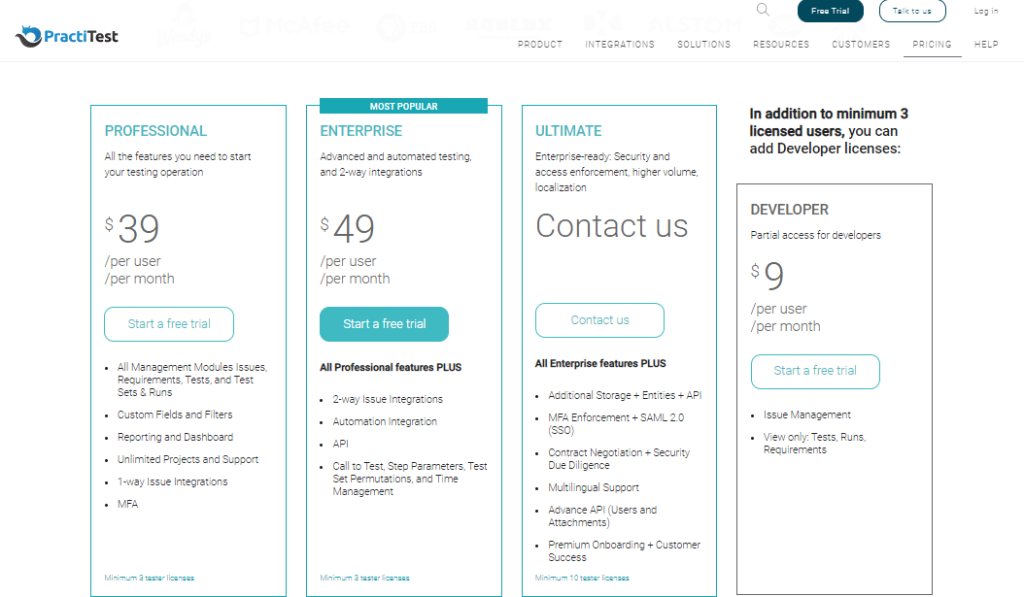 Our review of PractiTest:
Our review of PractiTest found that it's a fantastic and adjustable test management tool that can help teams make their testing process faster and better. It has many features, like mobile and desktop app choices and the ability to connect with popular tools, so PractiTest is excellent for teams who want to customize their testing workflows for their needs.
Testpad is a useful tool that facilitates testing for teams. TestRail has been created to simplify the testing process and improve the experience. Its user-friendly interface allows users to create test cases, manage tests and monitor progress quickly. Furthermore, TestRail provides additional benefits such as integration with other tools, collaborative functionality, and rapid reporting.
Established in 2013, the headquarters of this company is located in London, UK. Information regarding valuation and employee numbers is private.
This company provides mobile, web, and desktop software applications that can be integrated with popular tools such as JIRA, Slack, Trello, and Asana. It has received a 5-star rating on Capterra with over 40 reviews.
 Testpad is a lot easier to use than Testlink. It has a straightforward interface makes it super simple to create, organize and manage tests. Testpad offers more advanced features like better integrations, collaboration tools, and reporting options.
The interface is designed to be user-friendly, allowing for easy collaboration between team members. 

It integrates with other tools and provides customizable test reports accessible on multiple platforms.
The features available are limited for larger organizations, and customization options are restricted.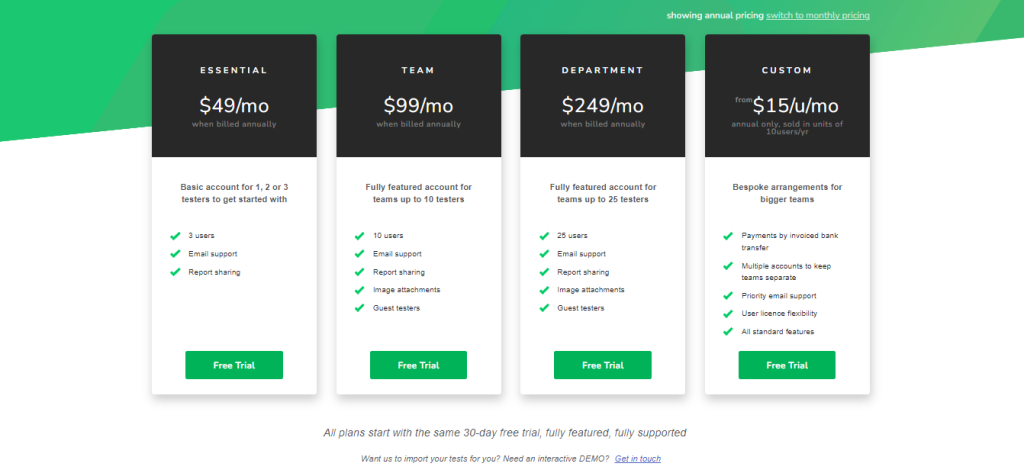 Testpad is suitable for small to medium-sized teams seeking an intuitive test management system. It provides a range of features, integrations, and user-friendliness that can facilitate the testing process and improve outcomes. On the other hand, larger organizations may find Testpad's limited customization options and features need to be improved. In conclusion, Testpad is a dependable and effective tool for test management. Undoubtedly it is one of the best Testlink alternatives out there.
Frequently Asked Questions - FAQs
What is similar to Testlink?
Testlink is a tool that helps you plan, organize, and track your software testing. It gives you an easy way to create, manage and monitor test cases and report on the results. You can also connect it with bug-tracking systems and project management tools. If you don't want to use Testlink, other Testlink alternatives like Zephyr, PractiTest, Xray, and Testpad can replace them.
What are the disadvantages of TestLink?
One of the main disadvantages of Testlink is its outdated user interface. The look and feel of the application last updated a few years ago, making it difficult to use for modern users who are accustomed to more modern interfaces. Additionally, Testlink offers limited reporting capabilities compared to other test management tools. This makes it difficult to accurately understand your project's progress or assess how well your team is performing. Finally, Testlink doesn't offer any integration with other tools or services, limiting its usefulness in larger organizations with multiple tools.
Yes, Testlink is a free and easy-to-use tool that helps you manage the testing process. You can use it to design tests, assign them to people who will be doing the testing, track any issues that come up during the process, and generate reports. It's super user friendly so you won't have any trouble finding your way around it. Plus, if you're already using other tools like Bugzilla or Jira for bug tracking, Testlink integrates with them for an even smoother experience.
To sum it up, Consider the features, cost, and user experience of each Testlink Alternatives. While selecting a test management tool, take into account its customizability, affordability, support, and ease of interaction with other products. Making ensuring that everyone on the team is trained on how to use the tool correctly and to keep up with any changes or updates is also crucial. The correct test management tool can help teams create better software faster and more efficiently. TestRail, Tuskr, Xray, PractiTest, and Testpad all offer different features that make them great options instead of Testlink. Check these Testlink alternatives out and find the one that will work best for your team's workflow – this will help make testing more productive and successful.
Latest posts by Shubhodaye Hiremath
(see all)