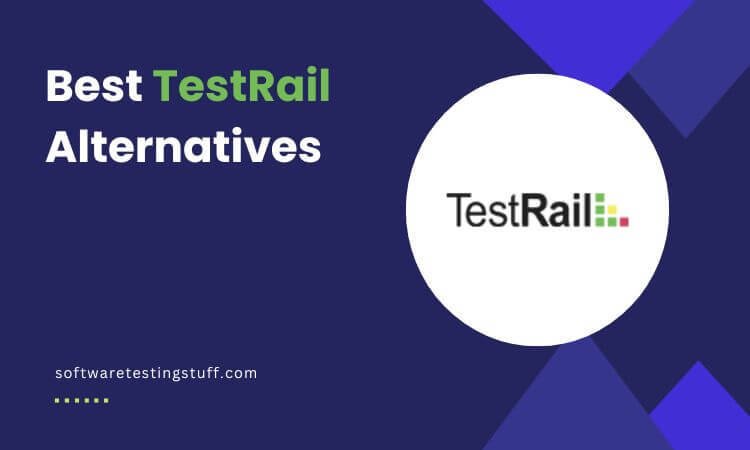 TestRail Alternative: We Tried 5 Best Alternatives [In-Depth Comparison 2023]
Quick List of 9 Alternatives to TestRail
Here are the 9 alternatives of TestRail that every software developer should be familiar with:
Tuskr
PractiTest
Kualitee
Smartbear Zephyr
Xray
Testmo
Testcollab
TestLink
TestGear
TestRail may be an excellent software for managing and organizing different test cases, but with cost issues, security awareness, and complex integration techniques, some might suggest a suitable alternative.
There are numerous test management software available in the tech market with both free and paid source, which comes with advanced features, and even a user-friendly interface.
Therefore, we've conducted some intensive research and listed the 9 best alternatives of test management software. Among the 9, we'll discuss the 5 best options with different features, pros, cons, and user reviews.
Why Consider A Testrail Alternative?
As mentioned earlier, Testrail is an excellent test management software specializing in manual web application testing, storing test reports, and many more.
Furthermore, there are many areas to customize your work in the interface to make the testing phase as efficient as possible. But, there are certain drawbacks for which one must think of a perfect alternative to TestRail.
Inefficient in terms of cost: TestRail does provide efficient testing results, but it certainly comes with a cost. You must have a premium subscription package in order to run your large-scale business operation. For those who operate web application testing on a small scale or a beginner, they should look for free or open-source test management software.
Level of customization

: Though TestRail allows customized options (which require the premium package to access), these options may not always sync with your project requirements. Therefore, one will eventually need to look for other tools as well.

User interface

: Everyone likes to feel comfortable while using a Test management tool like TestRail. But, its user interface is confusing and sometimes hard to interpret.

Limitations in integrations

: All the third-party frameworks that are associated with TestRail might not support your tool or project folder. In such scenarios, looking for a more versatile test management software might be a wise option.

Cloud-based platform

: Being a cloud platform does come with the flexibility to work and store your data remotely. But, it raises serious security awareness.. Therefore, looking for software with a non-cloud platform option is also necessary sometimes.
A Brief Overview Of The Top 5 Alternatives We Will Be Comparing
So, the top 5 alternatives of TestRail that we'll be comparing are as follows:
Tuskr

PractiTest

Kualitee

Smartbear Zephyr

Xray
A test management software tool should come with variable options to view and organize the test results, in order to make the web application compatible with every framework, real-time devices, and many more.
On top of that, a test management tool should also be flexible with every type of project the developers throw at it. The customized options should be easy to understand and implement. Additionally, the interface should be user-friendly.
Last but not least, each test management software should have open-source options so that users can get a clear idea about the software they'll be needing. If the requirements sync with the software's features, they can eventually get a premium package subscription.
Keeping all these valuable parameters in mind, let's make an even comparison between the test management software mentioned above.
Comparison Chart Of Top 5 TestRail Competitor
| | | | | | |
| --- | --- | --- | --- | --- | --- |
| | | | | Cloud-based infrastructure | |
| | | | JIRA, GitHub, GitLab, Slack | | |
| | | | | | |
| | | | | | |
| | | | JIRA, Confluence, Jenkins, Selenium | | |
| | | | Selenium, Cucumber, Robot Framework, JIRA | | |
Tuskr is a cloud-based platform for remote working of the developers. It allows you to organize and manage test cases and also enables integration with various third-party tools such as JIRA, Seloxis, Zapier and many more.
It allows you to organize and manage test cases and also enables integration with various third-party tools such as JIRA, Seloxis, Zapier and many more.
Additionally, Tuskr enables you to track the planned vs. actual time spent testing and optimize the workload prior to testing. You can increase accountability and use your resources more wisely in this way.
Tuskr is considered to be an all-in-one test management tool. It additionally caught every developer's attention by the charge of each premium package, not to mention, the 30-day free trial period.
Furthermore, it was originally created to focus mainly on the price range. There're many developers that find it troublesome for an affordable software test management tool.
Thanks to Tuskr, every developer will have access to testing their project software and figuring out the flaws related to the program.
The list below will show all the necessary information regarding Tuskr:
The founder of Tuskr is Adam Kipnis.

The current CEO is Harshal Trivedi.

The head office is Pune, India.

Comprises a maximum of 50 employees.
Third-party integration techniques: Tuskr offers various types of frameworks to improve testing efficiency and to become more versatile. Such framework includes JIRA, GitHub, GitLab, Slack, and many more.
API integration: The API integration associated with Tuskr makes the API testing more efficient and ends up with more promising testing results.
Subscription packages: The charge for the subscription packages is affordable which makes this tool accessible to developers of all classes. Furthermore, the 30-day free trial gives enough time to become habituated to the tool's interface.
Tuskr is more user-friendly that specializes in creating and managing test cases. It is mainly used to manage website test applications and has the ability to collaborate with a group of developers.
On the other hand, TestRail is a more well-known test management tool with many features for managing testing processes, such as test case management, test plan management, and test reporting. Furthermore, the integration techniques are more accurate on TestRail.
But, working on Tuskr's platform is cheap as the subscription packages are extremely affordable. Therefore, if you have a budget issue, go for Tuskr. Otherwise, we'll recommend TestRail.
The interface is easy to use.

It offers easy integrations with various tools such as JIRA, GitHub, GitLab, and many more.

The subscription prices are affordable.
Tuskr does not have access to mobile applications.
The interface is extremely user-friendly and integrations provide decent results for the test cases. Not to mention, the 30-day free trial is an awesome feature such a tool can offer.
As it doesn't have a mobile app, it will problematic for the developers who tend to run application on mobile phones.
For those who face difficulties just because they can't find a suitable environment for teamwork, PractiTest will be a perfect platform for them. It is a website test management software that provides a central interface for a group of developers to work and provide impressive test cases, generate results, and many more.
When it comes to the methodologies of PractiTest, there're many variables such as manual testing, automated testing, exploratory, and many more. It additionally offers a wide range of integration techniques with third-party frameworks like Jenkins, Selenium, and JIRA to provide efficient results of the test cases with outstanding testing efficiency.
The list below will show all the necessary information regarding PractiTest:
The founders of PractiTest are Joel Montvelisky and Yaniv Iny.

Current CEO is Joel Montvelisky.

The head office is located in Israel, but there are some offices also located in the United States and the United Kingdom.

Founded in 2008.

Comprises a maximum of 50 employees.
Test management: When it comes to testing management software, PratiTest seems to get it all covered. Starting from manual testing to automated ones, it can create, organize and run different test cases for providing improved and more evaluated results.
Customization options: Customized options are very user-friendly when it comes to PractiTest. The teams can generate every tool necessary for their projects and can come up with settings according to their preferences.
Integration techniques: PractiTest provides third-party integration frameworks such as JIRA, Selenium, and Jenkins which allows the developers to code their test cases and have the most accurate readings and graphs.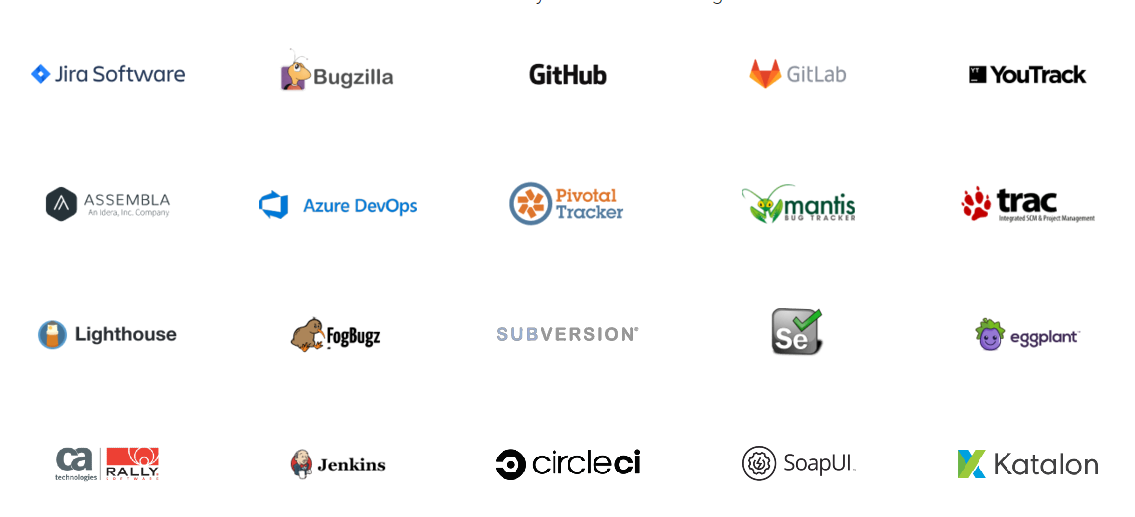 Test results: PractiTest provides detailed reports such as metrics, or graphical representations so that your developer's team can get a better view of the software's progress and figure out more areas for the improvement.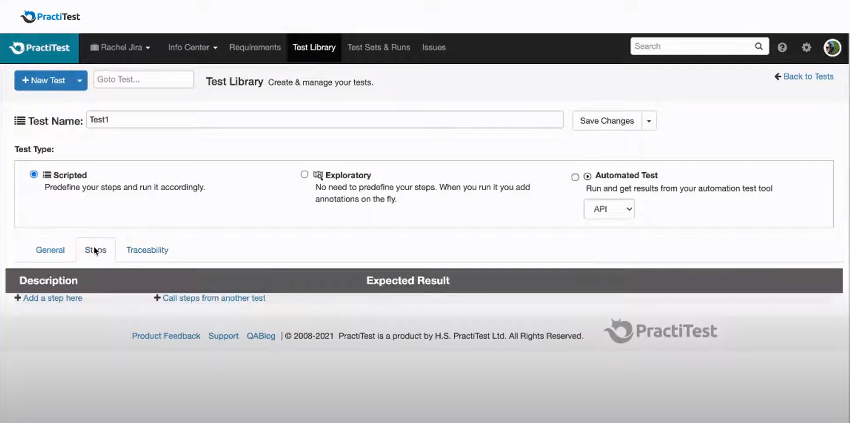 Group project works: Teams can collaborate on testing tasks using the tools within the library of PractiTest. They can also assign tasks to particular users and share test cases, defects, and test runs with other team members.
Both website test management software specializes in running test cases on web applications. Additionally, both are available in a cloud platform that helps the developers to work remotely on each platform.
But, working on a cloud-based platform has some lack of security awareness to think about. Furthermore, working on PractiTest lets you interact with your group members about the website application. This reduces the burden of individual brainstorming and coming up with group-based solutions to the problem.
Moreover, PractiTest offers a free trial to the user which enables them to get habituated to the software and its interface. Therefore, for web application test management tasks, PractiTest will be far better than TestRail.
It includes comprehensive type of testing such as manual, automated, and exploratory testing.

It allows integration with popular third-party automated frameworks.

It enables developers to work as a group.

The interface is user-friendly.

It comes with a free trial version.
Apart from coming with a free trial version, the paid subscription packages are claimed to be expensive.

Cloud-based platform software raises a security concern.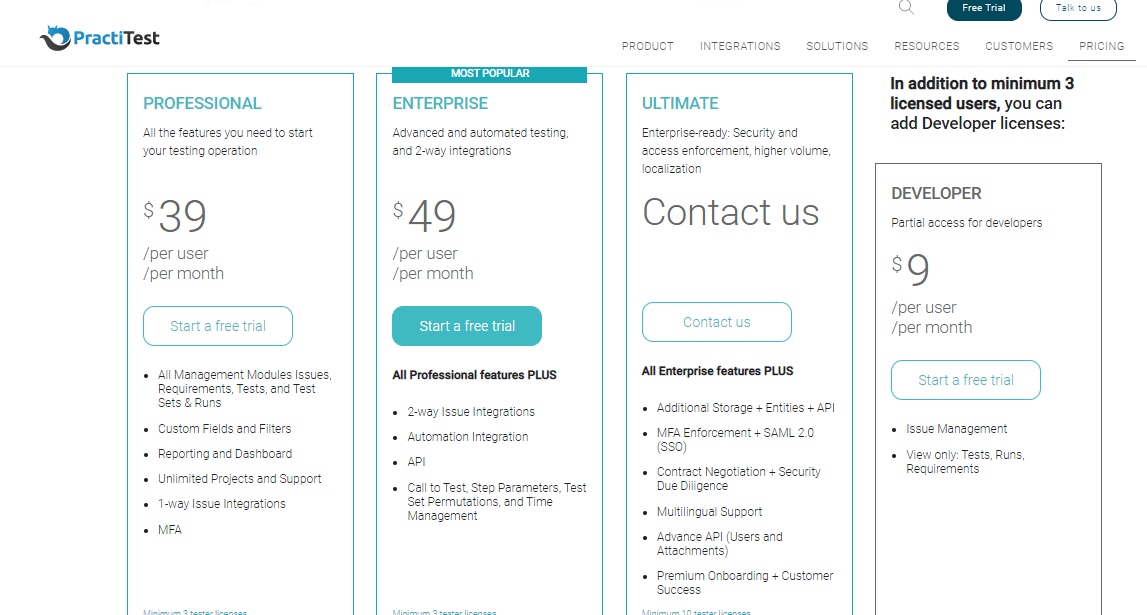 Our review of PractiTest:
The best thing about PractiTest is its versatility, how developers can easily customize every setting to sync with the requirements of their projects. But, the premium packages are needed to access more advanced features (which are expensive for non-technical developers).
Here we go with another software testing management tool which is also suitable to introduce among a group of developers. Kualitee is a comprehensive platform that offers features like software testing test cases, problem-solving, and detailed analysis of the results.
A major advantage of Kualitee is that it allows different developers to work on a single project while generating ideas to develop that particular application while observing the results.
The testing results come in a metric system which makes it easy for the developers to track and execute the defects much faster.
One important reason behind Kualitee's popularity is that it is capable of quick updates to its testing system to adapt to new developers every day.
The founder and CEO of Kualitee is Jamil Goheer.

The head office is located at 48 Wall Street, New York, United States.

Founded in 2018.

Comprises a maximum of 50 employees.
Managing test cases: Kualitee enables a group of developers to create, organize and manage different test cases in order to track the progress of a certain web application or software.
Defects in tracking: It also contains a defect module inside the system that quickly tracks all the defects during the testing and tries to fix them accordingly.
Integration techniques: In order to improve the testing efficiency, Kualitee links with third-party frameworks such as Selenium, JIRA or Jenkins for complete testing and quality assurance.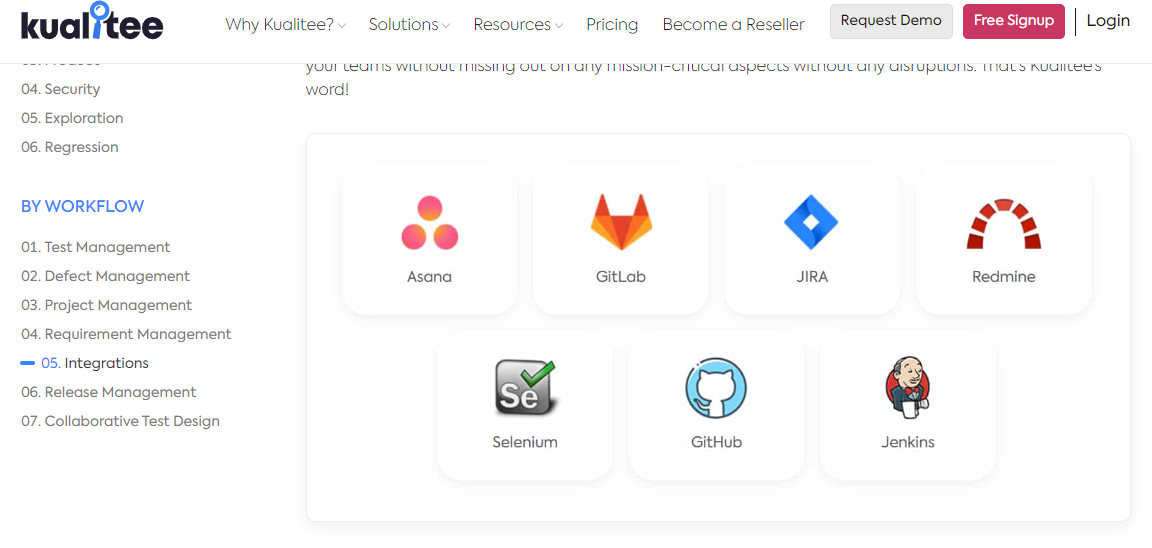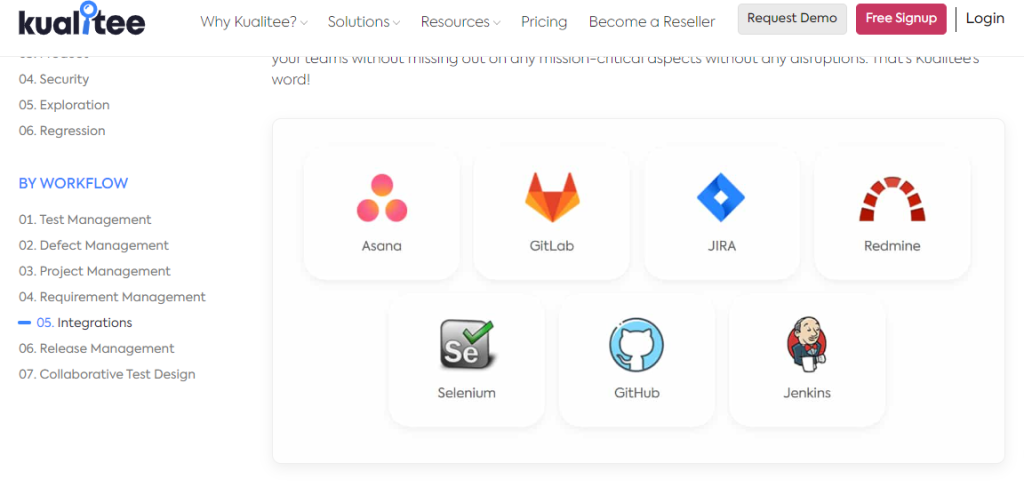 Analyzing reports: In addition to offering a variety of pre-built reports and dashboards, the tool also allows users to design their own reports. This helps to generate a more detailed analysis regarding the tested website or software.
Customized options: Kualitee also allows customization to fit the developer's every need while testing out a particular project.
Choosing between Kualitee and Testrail might be a bit of a hassle for developers. Both offer comprehensive testing tools to build an analysis of their test subjects.
Additionally, the integration techniques for both tools are quite similar in improving test efficiency. Kualitee, on the other hand, provides a more detailed list of defects in the software or application.
Furthermore, there's a free trial version associated with Kualitee but, unfortunately, Testrail doesn't involve any similar feature. Based on this parameter, choosing Kualitee over TestRail will be beneficial.
It allows the collaboration of different developers on the same project.

Versatile integration techniques to go through.

It provides auto defects during the test-run period.

It also offers a customized option to make your project compatible with the tool.
Kualitee requires a significant amount of training before running an actual test program, which is time-consuming.
Kualitee has a user-friendly interface and not to mention, and producing an automatic defect list is an efficient way to develop the tested software or applications.
But, while going through the list of defects, the system responds slowly which takes in managing. Also, other testing results are good, but there's still plenty of room for modifications.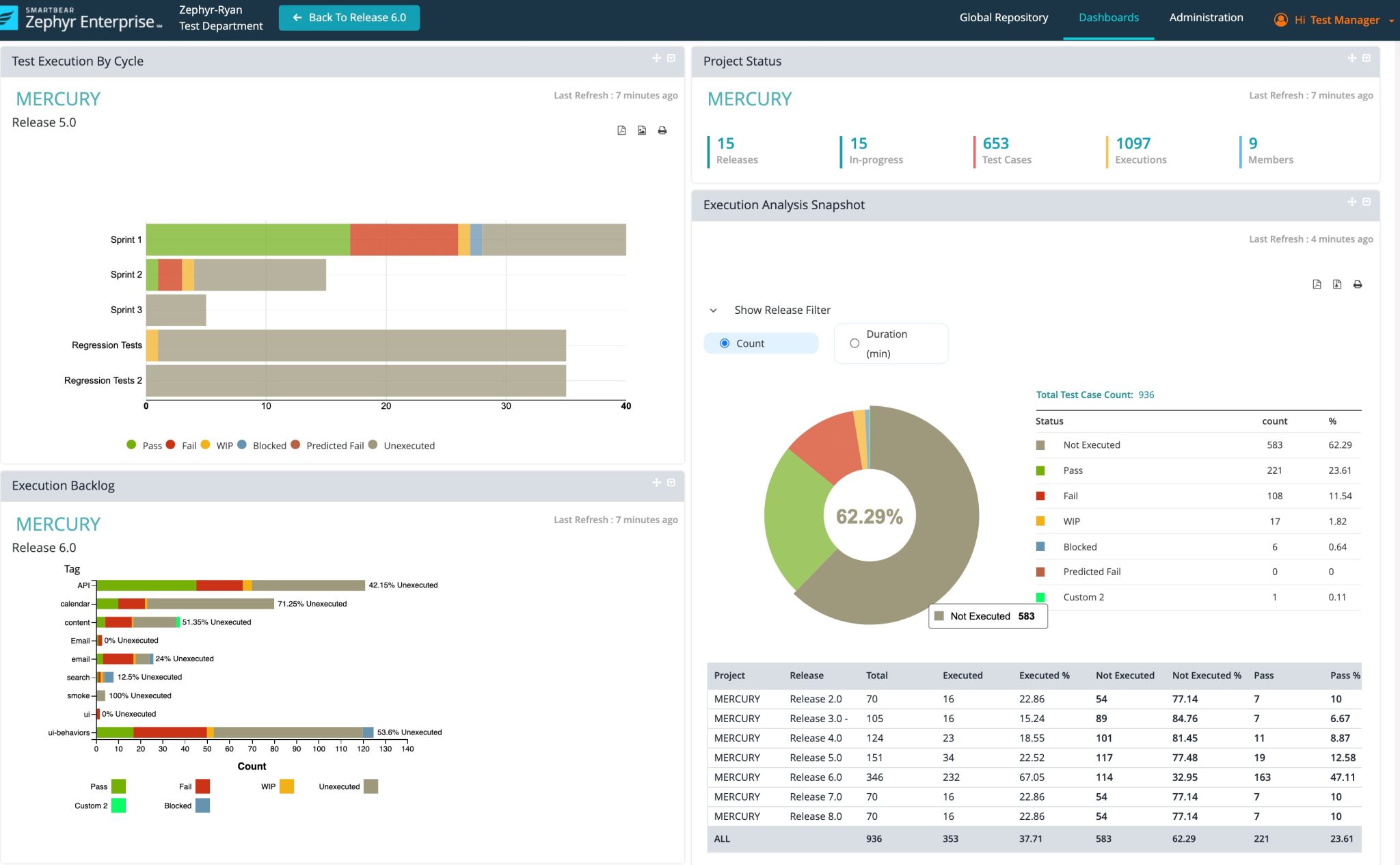 Do you wish to have more options while working on a group project? Then SmartBear Zephyr is the right place to visit. Your team of developers can use it to plan, carry out, and report on tests for various projects, groups, and platforms.
Furthermore, they can create and arrange test cases with SmartBear Zephyr, monitor the status of test execution, and produce customizable reports to apply more thoughts on developing the response of the tested software. Additionally, teams can also integrate as SmartBEar includes some famous frameworks such as JIRA, Confluence, Jenkins, and many more.
The list below will show all the necessary information regarding SmartBear Zephyr:
The founder of Smart Bear Zephyr is Jason Cohen

The current CEO is Frank Roe

The head office is located in Somerville, Massachusetts, United States

Founded in 2009

Comprises of a maximum of 1000 employees
Management of test cases: With SmartBear Zephyr, developing teams can arrange, manage and control many test cases. It allows the developers to track the progress of their applications while detecting flaws.
Test case executions: SmartBear Zephyr helps the collaborated team can run both automatic and manual tests in different environments. They can also monitor the execution of tests in real time and quickly locate and fix problems.
Integration techniques: Zephyr also includes some well-known third-party frameworks such as JIRA, Confluence, Jenkins, and many more for improving testing efficiency. Teams can easily manage their entire testing process from a single platform thanks to this integration.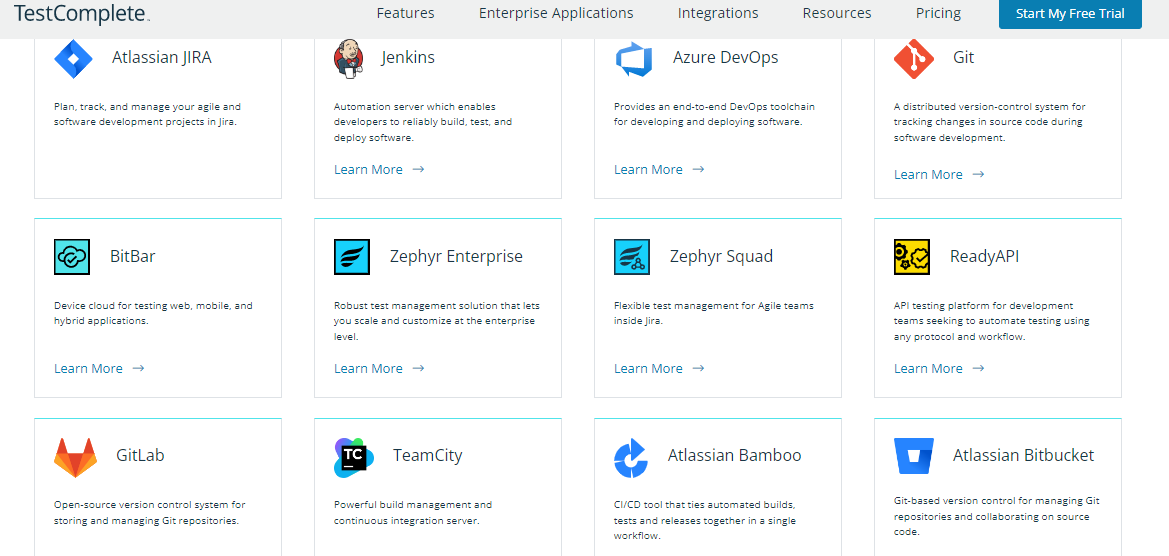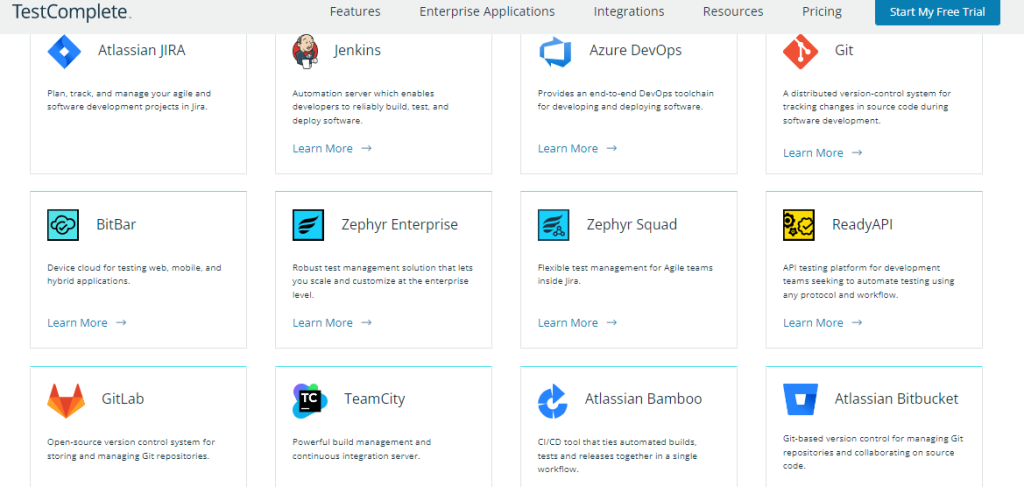 Additional supports: Additionally, Zephyr also has additional support for agile and DevOps methodologies. This section allows every developer's team to manage different reports' continuous integrations and delivery(CI/CD).
SmartBear Zephyr vs. TestRail:
The choices between SmartBear Zephyr and TestRail will depend upon the type of project the developers have available. Both tools have excellent features to test the applications smoothly and provide valid results.
Zephyr offers integrations with various tools for the automated framework. Furthermore, it comes with additional support from agile and DevOps methodologies. Last but not least, it has the ability to sustain a group of developers in one group.
On the other hand, TestRail has a simpler interface with decent integration techniques and is also capable of group projects. Though the customized option is less in TestRail, for low-scale projects and non-technical users, it is much more preferable.
It comes with additional tools such as agile and DevOps for more continuous integrations.

More support with a large number of developers.

It is also considered comprehensive testing grounds for under-development software.

It allows the option to customize your test cases.
The test simulations might have performance issues while running.
Our review of SmartBear Zephyr:
Additional features of SmartBear Zephyr such as DevOps or agile methodologies provide continuous integrations that output great testing efficiency.
But the test results are not accurate sometimes and need continuous running of simulations to bring out the best results. Furthermore, the system consumes a significant time while running the simulations.
We intend to keep the best software test management tool at the last! Here we introduce Xray, which is built for the developer's team to control every aspect of the testing operation.
On Xray, developers can rigorously test the software or applications on its interface. The tool is used to plan, create, carry out, and track tests and their outcomes.
When it comes to integration techniques, it introduces new platforms such as Cucumber, Selenium, JIRA, and Robot Framework which support both manual and automated testing frames.
The list below will show all the necessary information regarding Xray:
The head office is located in Lisbon, Portugal

Founded in 2016

Comprises a maximum of 200 employees
Automated testing: Xray offers numerous automation frameworks such as Selenium, Cucumber, Robot Framework, JIRA, and many more. In a single tool, teams can develop automated tests and monitor their outcomes alongside manual tests.
Management systems: It is capable of managing data which includes importing, exporting, and creating the test data automatically and working on that basis.
Customized options: Xray allows the developing team to customize their own working interface for more efficient test execution and defect management.
Test cases and coverages: Xray offers new variants of test cases with more area of coverage. This allows the team of developers to increase their knowledge and find new ways to make the analysis.
Both Xray and TestRail are experts when it comes to managing and organizing test cases for different software or applications. But there're certain drawbacks for each case that one should consider.
Xray offers more support when it comes to integrations as it collaborates with more automated frameworks than TestRail. On the other hand, TestRail offers a more user-friendly interface. Not to mention, Xray is comparatively new which makes it difficult for some developers to control.
Therefore, if you want to habituate yourself with a new software management tool, then go for Xray. Otherwise, there's a saying, "Old is Gold!"
It offers hassle-free integration features with JIRA, Selenium, and many more automated framework tools.

Comprehensive software test management tool.

As it is new, Xray has excellent customer support.

The interface is flexible and has customized options.
Developers might find it hard to control this tool as it has been recently introduced to the software testing community.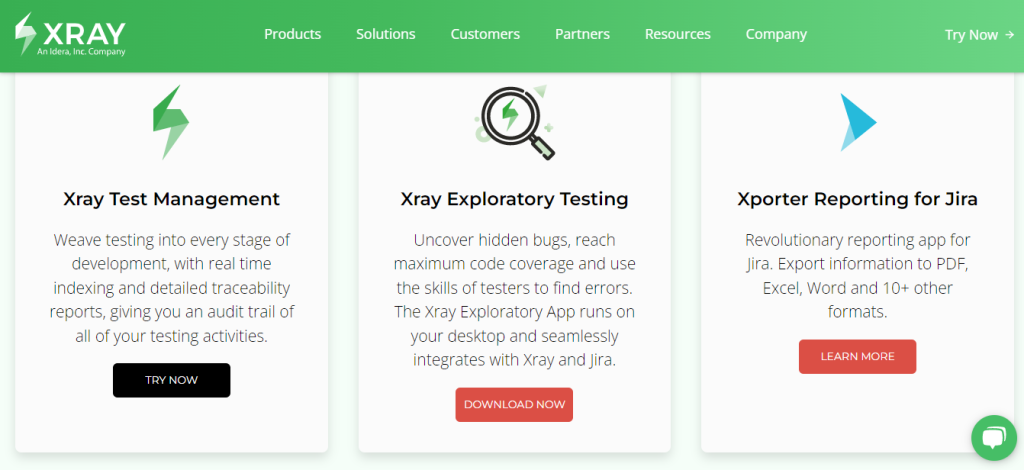 As Xray is a new software test management tool, the interface might trouble some developers and will take time to sync. Despite all of that, the customer support is excellent and the features are top-notch.
Frequently Asked Questions
1. What are the best alternatives of TestRail for the software test management tool?
According to our intensive research, these are the best alternatives to TestRail if you want more additional features, more user-friendly environments, and integrations.
Tuskr

SmartBear Zephyr

Xray

Kualitee

PractiTest
2. In which way Xray is better than TestRail?
Both TestRail and Xray are strong test management tools, but TestRail offers integrations with a wider variety of tools while Xray focuses specifically on integrating with Atlassian tools like JIRA.
3. In which way SmartBear Zephyr is better than TestRail?
Both SmartBear Zephyr and TestRail are strong software test management tools but with SmartBear, you'll have more options to include more developers in your team. Additionally, it includes more test cases than TestRail which enables more analysis.
4. What are the factors should we consider for a TestRail alternative?
While choosing an alternative to TestRail, here are some major factors one should consider:
Availability of integrating tools

User-friendly interface

Availability of test cases

Scalibility

Cost
5. Is it possible to import test cases in TestRail?
Yes! TestRail and its suitable alternatives allow you to import varieties of test cases in formats such as Excel, CSV, or XML.
Software test management tools ensure that particular software will work under every operating system, real-time device, and integrate with other tools. 
Therefore, with all factors under consideration, we will recommend Xray to be the first suitable TestRail alternative. Those who are slow learner, they can choose SmartBear for simplicity in interface and workflow environment.
Latest posts by Rahnuma Tasnim
(see all)